Announcement: Achtung, nur noch Restkarten fürs Open Flair!
Jun 26th, 2010 | By
Flutz
| Category:
Musik
,
News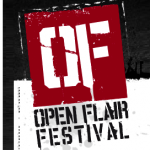 Während bei der WM im südafrikanischen Winter bisweilen gehörig gezittert wird, sind wir uns sicher: Das heißeste Sommermärchen findet dieses Jahr in Eschwege statt!
Das Open Flair Festival ist auf dem besten Weg, noch vor dem Finale ausverkauft zu sein und die Chancen dabei zu sein werden immer geringer. Wer noch Tickets erstehen will, sollte sofort zuschlagen – es gibt nur noch weniger Restkarten!
Alle Facts in Kürze:
Open Flair 2010
12.-15.8.2010
Eschwege
www.open-flair.de
Bestätigte Bands:
Fettes/Brot, The Hives, Jan Delay & Disko Nr.1, NOFX, Bad Religion, Ska-P, The Gaslight Anthem, Wir Sind Helden, Madsen, Bela B Y Los Helmstedt, Papa Roach, K's Choice, Blumentopf, Therapy?, Lagwagon, No Use For A Name, Mad Caddies, Dendemann, Skindred, Blood Red Shoes, Livingston, Broilers, Turbostaat, Against Me!, Levellers, Streetlight Manifesto, Jochen Distelmeyer, Klee, Timid Tiger, Auletta, 3 Feet Smaller, Götz Widmann, Mr. Irish Bastard, Wayne Jackson, Monsters Of Liedermaching, Das Pack, Los, Jona:S, Evil Cavies, Makabu, Liquid Lightning, Arcona Comes, Room Inside, NEOH
Warm-up-Party am Werratalsee (12.8., ab 18 Uhr) mit: TOS, Mofa, Dúné, Sondaschule, Grossstadtgeflüster
Kleinkunstprogramm:
Bademeister Schaluppke, Ulan & Bator, HG.Butzko, Philipp Scharri, Stulle und Bulle, Sebastian Krämer, GlasBlasSing Quintett, Poetry Slam
Walking/Driving Acts
Wohnraumhelden, Pico Bellos 'Verrückte Feuerwehr'
Sonstiges:
Eröffnungsshow im E-Werk, DJ Rayl Da P-Jay, DJ Zauberer von Oes, Herr Klontik und Rademann + Salami Minimal, Jan Koch, Open Mic, Poetry Slam Team Show, The Fuck Hornisschen Orchestra, Abschlussshow im E-Werk
Tickets: erhältlich auf der Homepage www.open-flair.de, über den direkten Link https://shop.open-flair.de sowie an allen bekannten Vorverkaufsstellen.
Ticket-Hotline: 05651-96163
Ein Drei-Tages-Ticket kostet 73 Euro, die Kid-Karte 59 Euro. Im Open-Flair-Ticket-Shop fallen übrigens KEINE Vorverkaufs-Gebühren an – und bei der Bestellung von Online-Tickets kann man sich sogar die Versandkosten sparen!